Excavator Buckets:

Heavy Duty Bucket

Strickland Bucket

Pavement/Slab
Removal

Swinger/Tilt

Vee Bucket

Skeleton/Screening
Bucket

Thumbs:

Universal Thumbs

T1 Excavator

The Clamp

Grapples:

Strickland Grapple

T1 Demo Grapple

Quick Couplers:

MM Coupler

Strickland S-Lock

Concrete Pulverizers:

Strickland Pulverizer

YPC Crusher

Cracker Splitter Combos:

Strickland
Cracker/Splitter

Stump Splitters:

Ransome Stump
Splitter/Shear

Ransome
Shark Tooth

Heavy Duty
Brush Hog

Black Splitter

Tree Shear

14/20" Forestry

Stump Puller

Hydraulic Grapples:

YM Grapple

YDG / YSG Grapples

Clamshell Buckets:

YC Clamshell

Cable / Wire Clam

Buckets:

Custom Large
Excavator Buckets

Roll-Out Bucket

Loader Skeleton Bucket

Brackets:

Top Bracket

Quick Coupler Bracket

Rakes:

Loader Stacking Rake

Skid Steer Grapple Rake

Skid Steer Stacking

Semi-Low Profile Dozer

Low Profile Dozer

Excavator Rake

Forks:

Pallet & Utility Forks

Bucket Forks

Heavy Duty Forks

Fork Carriage

Universal Processors:

RMS200 / DFS03 Shears

Shears:

YSR Shear

YLS Shear

SH Shears

Diverter Valve

Hammers:

Rockblaster Hammers

Vibrating Pile Driver

Rippers:

Ransome Rippers

Misc:

Plate Compactor

Compaction Wheels

Wrecking Drop Ball

Material Handler Front

Specialty Machines:

Marsh Buggies

Small Track Dumper

Rotary Cutters

Magnets:

LGI Magnets

Quick Mags

Instant Generator/Mag

Sticks & Booms:

Long Reach Package

100k lb L/R Package

Stick Extensions

Demolition Front End

Telescoping Booms/Sticks

3rd Stick

Stretch Stick

High Reach Demolition

Custom Ultra High

Elevated Cab

Hill Hoe


Specifications&nbsp&nbsp&nbsp&nbsp&nbsp&nbsp&nbsp&nbsp2012 Pricing

| Rake Length | Tine Thickness | Number of Tines | Weight | Price |
| --- | --- | --- | --- | --- |
| 6' | 1" | 7 | 1,000 lbs | $ 2,050 |
| 7' | 1" | 8 | 1,100 lbs | $ 2,260 |
| 8' | 1" | 9 | 1,300 lbs | $ 2,550 |
| 9' | 1.25" | 10 | 1,450 lbs | $ 2,680 |
| 10' | 1.25" | 11 | 1,625 lbs | $ 2,835 |
| 10' | 1.5" | 11 | 1,710 lbs | $ 3,415 |
| 11' | 1.5" | 12 | 1,800 lbs | $ 3,780 |
| 12' | 1.5" | 13 | 1,940 lbs | $ 4,045 |
| 13' | 1.5" | 14 | 2,100 lbs | $ 4,410 |
| 14' | 1.5" | 15 | 2,250 lbs | $ 4,725 |
Note: Freight additional charge $595.
The tines are made of AR400 high strength alloy wear. The tubing is 6" x 6" x 1/2" and the structural steel and the bracing is 1/2" thick high strength plate. The rakes are doubled welded for extra strength and features stress point bracing.

All Dozer rakes can be manufactured per customer's requests and specifications.
Height, width and thickness of tines will be made according to instructions and hook-ups fitted to the machine. The rake can be attached at the top of the blade, on the sides of the blade, or it can be pinned for dozer hook-up for use without the blade.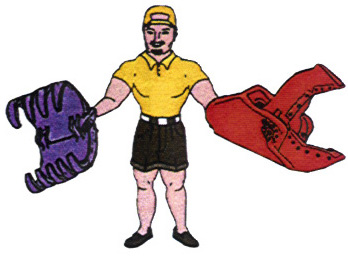 Ransome Equipment Sales, LLC
106 Ark Road, Lumberton, NJ 08048
Toll Free Phone: 888-988-5747 Phone: 609-975-8127 Fax: 609-257-3719
E-mail:&nbsp&nbspsales@ransome-equip.com