Excavator Buckets:

Heavy Duty Bucket

Strickland Bucket

Pavement/Slab
Removal

Swinger/Tilt

Vee Bucket

Skeleton/Screening
Bucket

Thumbs:

Universal Thumbs

T1 Excavator

The Clamp

Grapples:

Strickland Grapple

T1 Demo Grapple

Quick Couplers:

MM Coupler

Strickland S-Lock

Concrete Pulverizers:

Strickland Pulverizer

YPC Crusher

Cracker Splitter Combos:

Strickland
Cracker/Splitter

Stump Splitters:

Ransome Stump
Splitter/Shear

Ransome
Shark Tooth

Heavy Duty
Brush Hog

Black Splitter

Tree Shear

14/20" Forestry

Stump Puller

Hydraulic Grapples:

YM Grapple

YDG / YSG Grapples

Clamshell Buckets:

YC Clamshell

Cable / Wire Clam

Buckets:

Custom Large
Excavator Buckets

Roll-Out Bucket

Loader Skeleton Bucket

Brackets:

Top Bracket

Quick Coupler Bracket

Rakes:

Loader Stacking Rake

Skid Steer Grapple Rake

Skid Steer Stacking

Semi-Low Profile Dozer

Low Profile Dozer

Excavator Rake

Forks:

Pallet & Utility Forks

Bucket Forks

Heavy Duty Forks

Fork Carriage

Universal Processors:

RMS200 / DFS03 Shears

Shears:

YSR Shear

YLS Shear

SH Shears

Diverter Valve

Hammers:

Rockblaster Hammers

Vibrating Pile Driver

Rippers:

Ransome Rippers

Misc:

Plate Compactor

Compaction Wheels

Wrecking Drop Ball

Material Handler Front

Specialty Machines:

Marsh Buggies

Small Track Dumper

Rotary Cutters

Magnets:

LGI Magnets

Quick Mags

Instant Generator/Mag

Sticks & Booms:

Long Reach Package

100k lb L/R Package

Stick Extensions

Demolition Front End

Telescoping Booms/Sticks

3rd Stick

Stretch Stick

High Reach Demolition

Custom Ultra High

Elevated Cab

Hill Hoe


Ransome Stump Splitter/Shear


Ransome mechanical wood splitter working on a ZX350
The Ransome Mechanical Stump Harvester tears through large stumps and logs. Built in the US, built to last. You will save tons of time and money by harvesting, processing / downsizing stumps and logs making much fewer trips to haul this debris away. The RSH6090 will pull stumps out of the ground and go right through the product in one cycle. Once the stumps are split, use the Ransome Stump Harvester to load into tub grinder or container. With this tool, you will not need to have a larger tub grinder. The use of the RSH6090 saves you money.

The Ransome Mechanical Stump Harvester is custom built to fit most 18-45 ton excavators for direct pin or with a quick coupler. Use with a coupler will reduce the splitting force and creates a lot of wear and tear on the coupler so not recommended.

Currently we offer two models:

RSH4060 - 18-27 ton carrier weight - $16,900 plus freight
RSH6090 - 27-40 ton carrier weight - $18,900 plus freight

The compatibility and availability depends on the make and model of the excavator. The typical lead time is up to 2-4 weeks from time of order.

Payment is due for pickup or shipping to customer.

LTL shipping for non-local customers is available.

Please contact Eric Ransome @ 888-280-1710 with any product questions and for a freight quote.

Product video available on YouTube channel, Black Splitter USA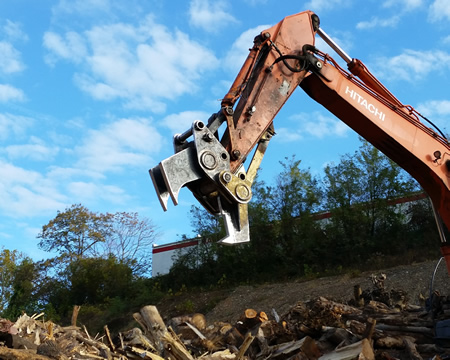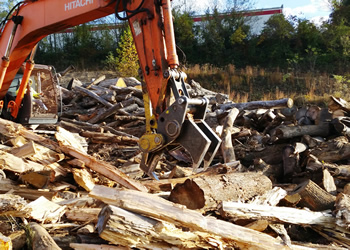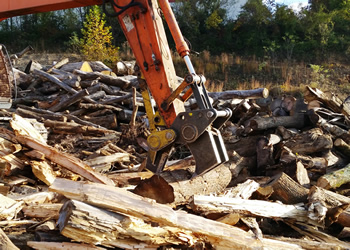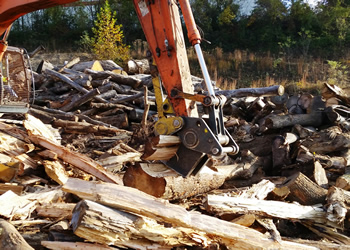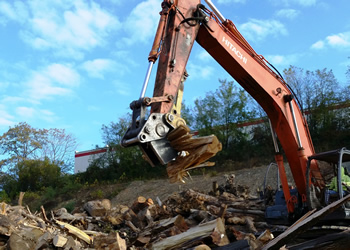 * * * * * * * * * * * * * * * * * * * * * * * * * * * * * * * * * * * * * * * * * * * * * * * * *
RSH 40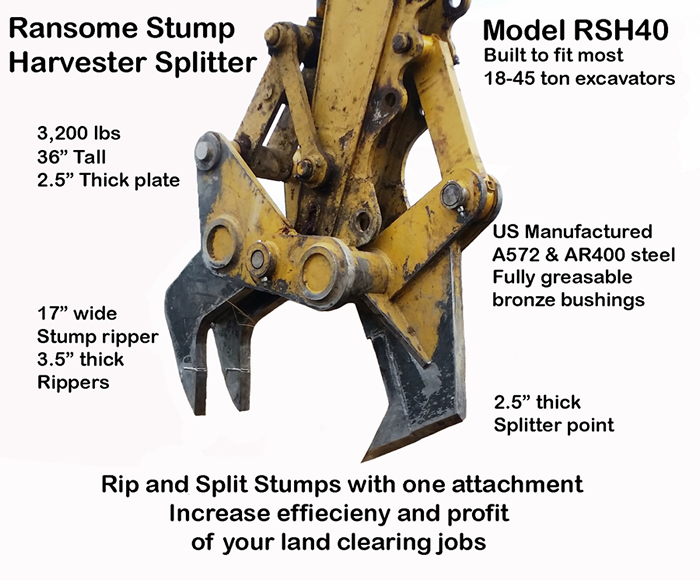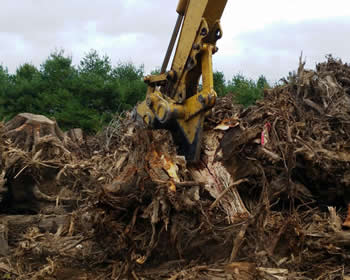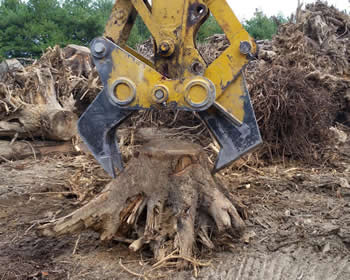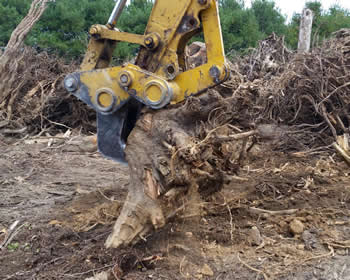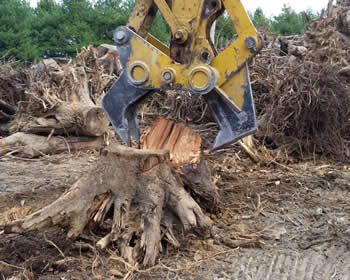 RSH40 on a Hyundai 160
* * * * * * * * * * * * * * * * * * * * * * * * * * * * * * * * * * * * * * * * * * * * * * * * *


Prototype Stump Harvester / Splitter working on a Hyundai 210 LC-7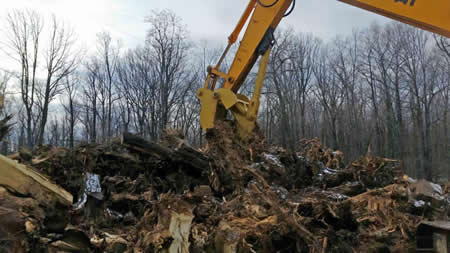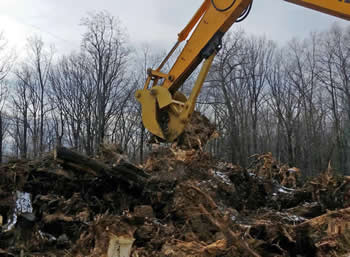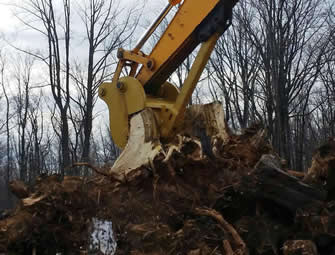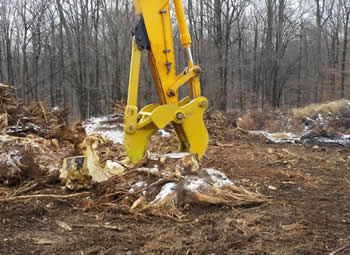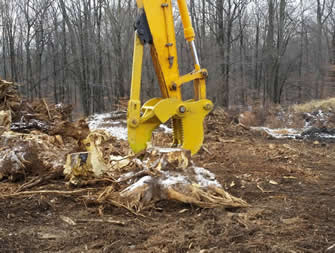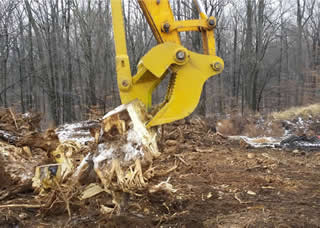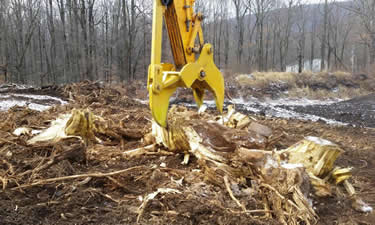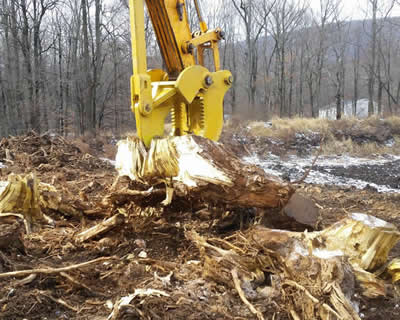 * * * * * * * * * * * * * * * * * * * * * * * * * * * * * * * * * * * * * * * * * * * *
Specifications

| Model | Excavator Class | Approximate Weight | Maximum Opening | Price |
| --- | --- | --- | --- | --- |
| RSS-30/40 | 30-40,000 lb | 1,850 lbs | 31" | P.O.R. |
| RSS-40/60 | 40-60,000 lb | 2,930 lbs | 46" | P.O.R. |
| RSS-60/90 | 60-90,000 lb | 4,950 lbs | 52" | P.O.R. |
Quick Coupler Options:
· Quick Coupler compatible stump splitters are available for an additional $1,500.
· Quick Coupler specifications must be verified at the time of the order to ensure proper functionality.
Features:
· Pull hook design front and rear to rip stumps out of the ground or roll them over for a better cutting angle.
· 2" thick high tensile steel blade with flow thru cutting blade stops.
· 2" reinforced gusset on the blade.
· Blade cuts both horizontal and vertical.
Benefits:
· Lower costs due to interchangeability from one machine to another in your fleet by purchasing extra pin and bushing kits to match the different machine specifications.
· When you sell or trade your machine, you keep your RSS attachment for your next project.
&nbsp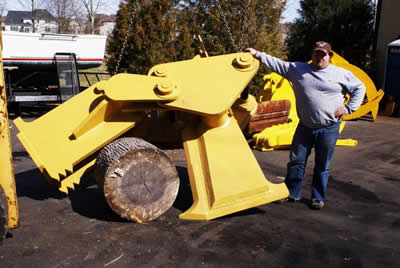 Stump Splitter 60-90 Model
&nbsp
&nbsp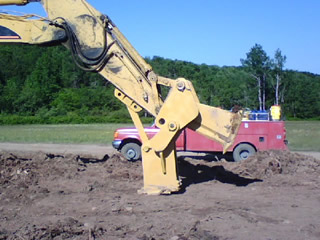 &nbsp&nbsp&nbsp&nbsp&nbsp&nbsp&nbsp&nbsp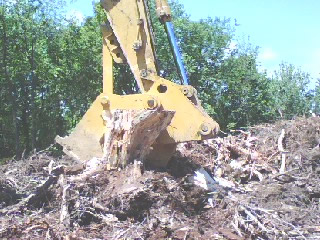 &nbsp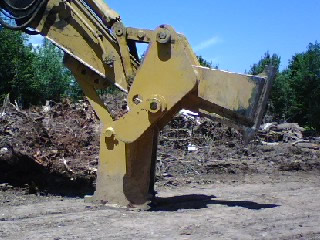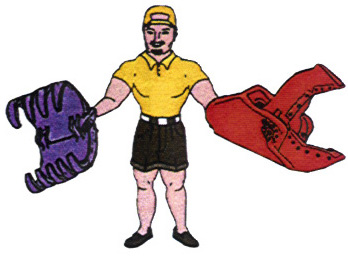 Ransome Equipment Sales, LLC
106 Ark Road, Lumberton, NJ 08048
Toll Free Phone: 888-988-5747 Phone: 609-975-8127 Fax: 609-257-3719
E-mail:&nbsp&nbspsales@ransome-equip.com