Excavator Buckets:

Heavy Duty Bucket

Strickland Bucket

Pavement/Slab
Removal

Swinger/Tilt

Vee Bucket

Skeleton/Screening
Bucket

Thumbs:

Universal Thumbs

T1 Excavator

The Clamp

Grapples:

Strickland Grapple

T1 Demo Grapple

Quick Couplers:

MM Coupler

Strickland S-Lock

Concrete Pulverizers:

Strickland Pulverizer

YPC Crusher

Cracker Splitter Combos:

Strickland
Cracker/Splitter

Stump Splitters:

Ransome Stump
Splitter/Shear

Ransome
Shark Tooth

Heavy Duty
Brush Hog

Black Splitter

Tree Shear

14/20" Forestry

Stump Puller

Hydraulic Grapples:

YM Grapple

YDG / YSG Grapples

Clamshell Buckets:

YC Clamshell

Cable / Wire Clam

Buckets:

Custom Large
Excavator Buckets

Roll-Out Bucket

Loader Skeleton Bucket

Brackets:

Top Bracket

Quick Coupler Bracket

Rakes:

Loader Stacking Rake

Skid Steer Grapple Rake

Skid Steer Stacking

Semi-Low Profile Dozer

Low Profile Dozer

Excavator Rake

Forks:

Pallet & Utility Forks

Bucket Forks

Heavy Duty Forks

Fork Carriage

Universal Processors:

RMS200 / DFS03 Shears

Shears:

YSR Shear

YLS Shear

SH Shears

Diverter Valve

Hammers:

Rockblaster Hammers

Vibrating Pile Driver

Rippers:

Ransome Rippers

Misc:

Plate Compactor

Compaction Wheels

Wrecking Drop Ball

Material Handler Front

Specialty Machines:

Marsh Buggies

Small Track Dumper

Rotary Cutters

Magnets:

LGI Magnets

Quick Mags

Instant Generator/Mag

Sticks & Booms:

Long Reach Package

100k lb L/R Package

Stick Extensions

Demolition Front End

Telescoping Booms/Sticks

3rd Stick

Stretch Stick

High Reach Demolition

Custom Ultra High

Elevated Cab

Hill Hoe




Rotary Cutters are new product listings to the website. Pictures and specifications for the various Rotary Cutter models are listed below.

Additional information on these attachments will be displayed when it becomes available. Please contact the Ransome sales office if there are any questions regarding this equipment.
Hydraulic Rotary Cutters:
· Cutter head transmissions feature Gear Reduction which multiplies torque giving you the best cutting value.
· Hydraulic Rotary Cutters are available in 5 sizes and are mounted on excavators ranging from 2 - 45 tons.
· Three cutter drums are available...Excavation Drums, Demolition Drums, and Scaling Drums.
· Pick (i.e. cutter bit) selection ensures optimum cutting rates.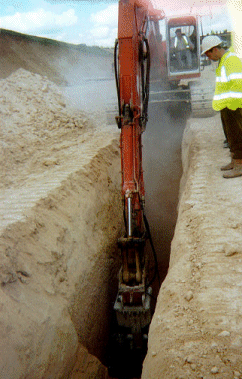 Rotary Cutters


| Model | Hydr. Input Power (hp) | Oil Flow Rate Required (GPM) | Max. Operating Pressure (psi) | Cutting Head Diameter (in) | Cutting Head Width (in) | Max Output Shaft Torque (ft lb) | Cutting Head Speed (rpm) | Max. Pick Force (lb) | Pick Speed (ft/s) | Weight (lbs) | Excavator Weight (tons) |
| --- | --- | --- | --- | --- | --- | --- | --- | --- | --- | --- | --- |
| TC-A | 24 | 11-17 | 5439 | 12.7 | 22 | 2065 | 77-130 | 4294 | 4-9 | 441 | 2-9 |
| TC-B | 40 | 19-32 | 5439 | 15.3 | 26.7 | 4057 | 72-120 | 6340 | 6-9 | 827 | 5-22 |
| TC-B2 | 60 | 32-50 | 5076 | 21.7 | 29.5 | 7302 | 67-106 | 8093 | 6-11 | 1797 | 13-22 |
| TC-C | 80 | 37-56 | 5076 | 24.2 | 35.4 | 10105 | 57-86 | 10026 | 6-10 | 2976 | 30-33 |
| TC-D | 121 | 63-90 | 5076 | 24.2 | 35.4 | 17775 | 55-78 | 17648 | 6-8 | 3196 | 28-39 |
| TC-E | 161 | 87-132 | 5439 | 28.2 | 49.4 | 27732 | 49-74 | 23605 | 6-9 | 4409 | 33-55 |
TC-C attachments working on a concrete demolition job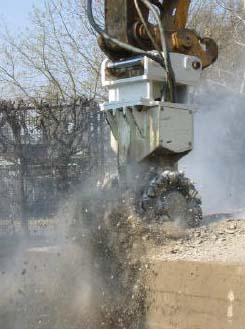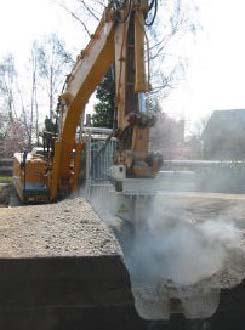 TC-B performing roadwork (left) TC-C performing roadwork (right)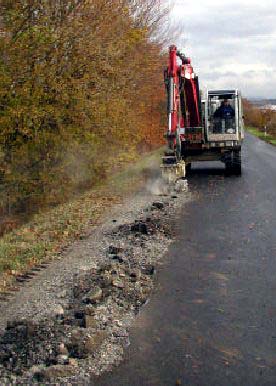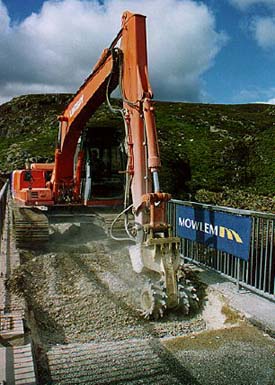 Concrete Grinders in Action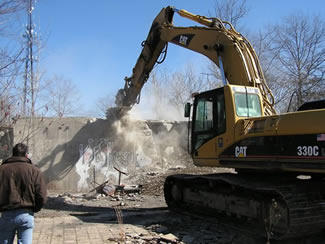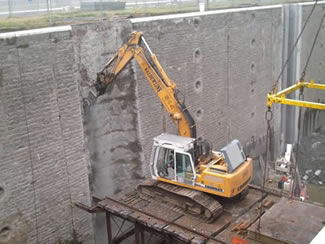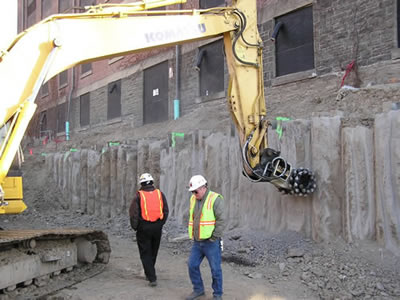 * * * * * * * * * * * * * * * * * * * * * * * * * * * * * * *
Cutter / Mixers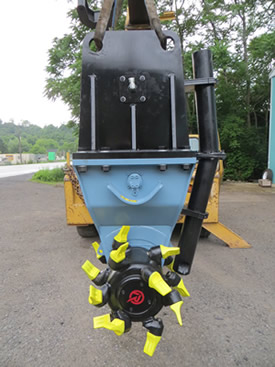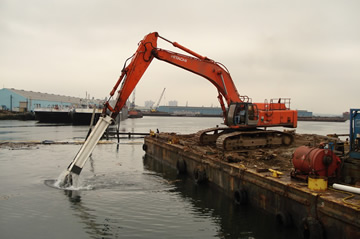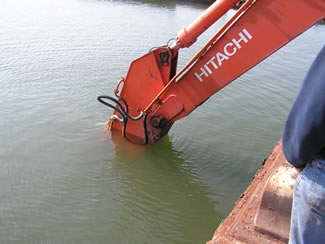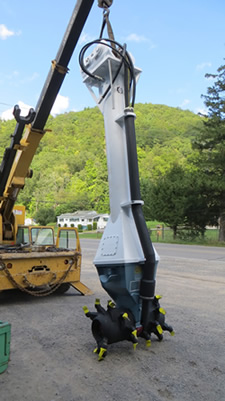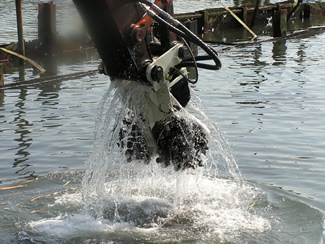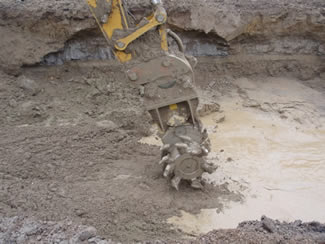 * * * * * * * * * * * * * * * * * * * * * * * * * * * * * * *
(Click on the photos below to enlarge)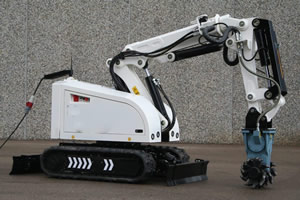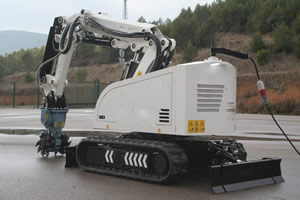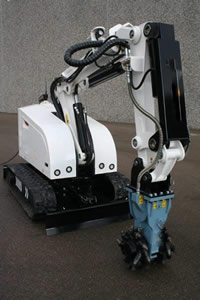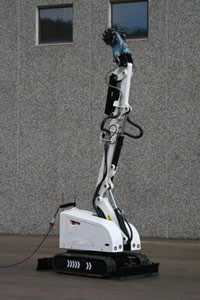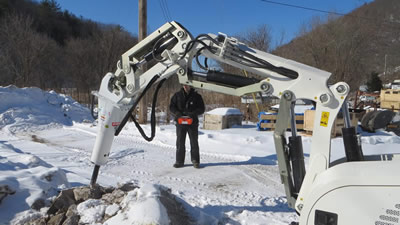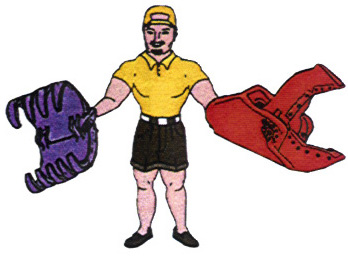 Ransome Equipment Sales, LLC
106 Ark Road, Lumberton, NJ 08048
Toll Free Phone: 888-988-5747 Phone: 609-975-8127 Fax: 609-257-3719
E-mail:&nbsp&nbspsales@ransome-equip.com