Excavator Buckets:

Heavy Duty Bucket

Strickland Bucket

Pavement/Slab
Removal

Swinger/Tilt

Vee Bucket

Skeleton/Screening
Bucket

Thumbs:

Universal Thumbs

T1 Excavator

The Clamp

Grapples:

Strickland Grapple

T1 Demo Grapple

Quick Couplers:

MM Coupler

Strickland S-Lock

Concrete Pulverizers:

Strickland Pulverizer

YPC Crusher

Cracker Splitter Combos:

Strickland
Cracker/Splitter

Stump Splitters:

Ransome Stump
Splitter/Shear

Ransome
Shark Tooth

Heavy Duty
Brush Hog

Black Splitter

Tree Shear

14/20" Forestry

Stump Puller

Hydraulic Grapples:

YM Grapple

YDG / YSG Grapples

Clamshell Buckets:

YC Clamshell

Cable / Wire Clam

Buckets:

Custom Large
Excavator Buckets

Roll-Out Bucket

Loader Skeleton Bucket

Brackets:

Top Bracket

Quick Coupler Bracket

Rakes:

Loader Stacking Rake

Skid Steer Grapple Rake

Skid Steer Stacking

Semi-Low Profile Dozer

Low Profile Dozer

Excavator Rake

Forks:

Pallet & Utility Forks

Bucket Forks

Heavy Duty Forks

Fork Carriage

Universal Processors:

RMS200 / DFS03 Shears

Shears:

YSR Shear

YLS Shear

SH Shears

Diverter Valve

Hammers:

Rockblaster Hammers

Vibrating Pile Driver

Rippers:

Ransome Rippers

Misc:

Plate Compactor

Compaction Wheels

Wrecking Drop Ball

Material Handler Front

Specialty Machines:

Marsh Buggies

Small Track Dumper

Rotary Cutters

Magnets:

LGI Magnets

Quick Mags

Instant Generator/Mag

Sticks & Booms:

Long Reach Package

100k lb L/R Package

Stick Extensions

Demolition Front End

Telescoping Booms/Sticks

3rd Stick

Stretch Stick

High Reach Demolition

Custom Ultra High

Elevated Cab

Hill Hoe


Will fit Skid Steer Loaders and Small Wheel Loaders
Specifications

| Model | Weight | Height | Width at Shear Arms | Overall Depth | Price |
| --- | --- | --- | --- | --- | --- |
| Tree Shear | 1,810 lbs | 57" | 63" | 40" | $ 22,000 |
| Tree Shear w/ Accumulator | 1,950 lbs | 57" | 63" | 40" | $ 24,000 |
Additional Specifications

| Cylinders | Number | Rod | Bore | Stroke |
| --- | --- | --- | --- | --- |
| Shear: | 2 | 2 1/2" | 5" | 10 |
| Double Grapple: | 1 | 1 1/4" | 2 1/2" | 12 |
| Accumulator: | 1 | 1 1/8" | 2" | 8 |
Features:
·&nbsp&nbspIdeal tool for thinning in small logging operations.
·&nbsp&nbspGround level cutting, eliminating stump problems.
·&nbsp&nbspDouble arm grapples securely grab the tree as the shear arms are activated.
·&nbsp&nbspDesigned for machines with a minimum of 40 hp, 13 gpm, 1700 psi, and 1,700 lbs of operating capacity.
·&nbsp&nbspCylinder is rated at 3000 psi and optimum results will be obtained near those levels.
·&nbsp&nbspShear blades are comprised of 1" high tensile steel with milled knife edges and are easily replaced when worn.
·&nbsp&nbspThe optional accumulator enables the shear to "bunch" cut trees when operating in smaller wood, thereby improving productivity.
·&nbsp&nbspMachine must be equipped with auxiliary hydraulics; grapple arms operate from the same auxiliary hydraulic circuits that control the shear blades.
20" Forestry Tree Shear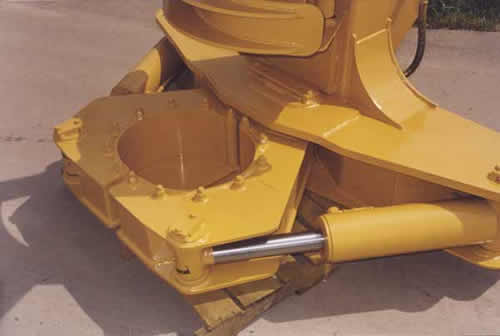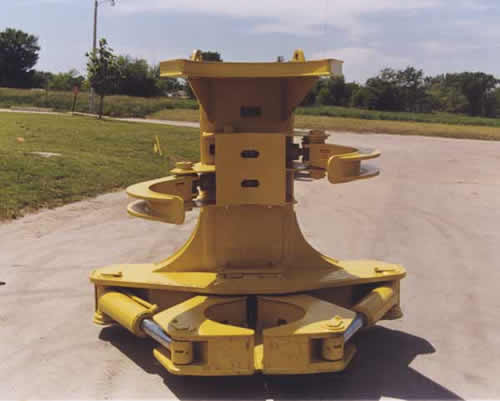 Specifications

| Model | Weight | Height | Width at Shear Arms | Overall Depth | Price |
| --- | --- | --- | --- | --- | --- |
| Tree Shear | 5,350 lbs | 73" | 90" | 82" | $ 45,900 |
| Tree Shear w/ Accumulator | 6,110 lbs | 90" | 90" | 80" | N/A |
| Cylinders | Number | Rod | Bore | Stroke |
| --- | --- | --- | --- | --- |
| Shear: | 2 | 3.5" | 6" | 16" |
| Double Grapple: | 1 | 2" | 4" | 8" |
| Accumulator: | 2 | 2" | 4" | 8" |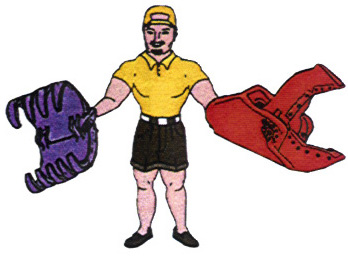 Ransome Equipment Sales, LLC
106 Ark Road, Lumberton, NJ 08048
Toll Free Phone: 888-988-5747 Phone: 609-975-8127 Fax: 609-257-3719
E-mail:&nbsp&nbspsales@ransome-equip.com